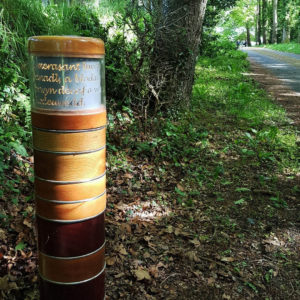 Poetry Trail Outdoor lamps- situated at Ty Newydd, LLanystumdwy- 6 lamps with Welsh poetry that light up at night. Collaboration with Joe Roberts 2016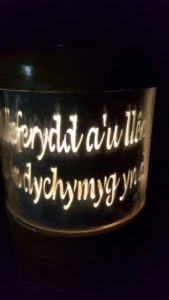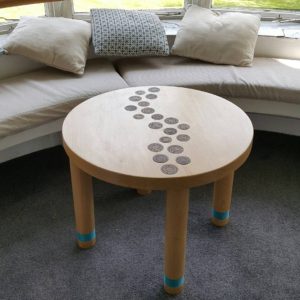 Commission- Woodturned Table – situated at Ty Newydd, Llanystumdwy- Literature Wales centre. former Prime Minister Lloyd George house. 2016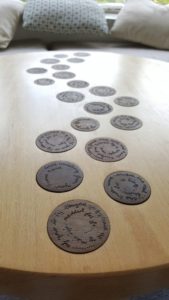 The table has Welsh poetry by Guto Dafydd and  Gillian Clarke  etched into wood – each poem is written about Ty Newydd. 2016
MA work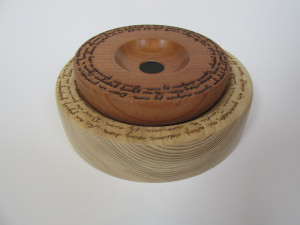 Masters work – Welsh poem- by T H Parry Williams etched on rim of bowls- ' I feel the clutches of Wales gripping my chest, god forbid i cannot escape from here."  Body of work responding to how important my Welsh background is to my identity as a maker- starting point for my business and ethos 2014.  How farming and Welsh poetry and language is important inspiration for my work.
Degree Work- 2012
inspired by a trip up Kilimanjaro and a conversation with a porter called David who farmed cows. He thought I was rich with 20 cows. This work explores Ownership, status and Wealth  and it's meaning.  It was exhibited at Milan Design week, 2012, New Designers 2012 and London Design Festival 2013.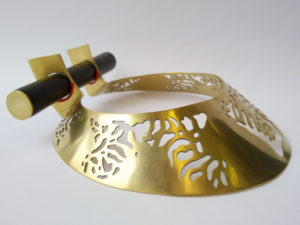 the necklace has prints of my cows pierced out of the metal, to display my ownership and status and wealth.
Welsh Love Spoons
made at University,  from metal, researching the symbolism behind Welsh Love spoons. These two spoons have ' we two become one' and ' imagery of growth' love growing like a tree. 2011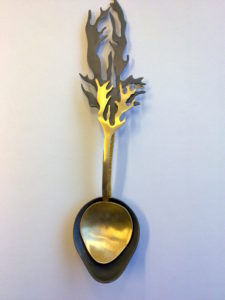 Spoons-