The past two months have been extremely busy and I cannot complain as I have enjoyed every second! Let me update you on what I've been up to….
Recently I was invited to present my products in front of Liberty London's panel of Expert buyers for their 'Best of British' Open call day. It was a truly extraordinary experience. I was mesmerized by the store. Me and my Mum were like two country pumpkins gazing at this unique building. We queued for 7 hours and met some lovely makers in the queue.
Pitching my products to Liberty was a thrilling experience, and the comments I received about my work were incredible, and I was a little overwhelmed, as I assumed I had no hope in hell of impressing the Buyers. I spoke at a million mile a minute.. aware of the 4 minute I had to explain my work, my inspirations and business to the Expert.
Being told that my work is "beautifully crafted and well made" has given me confidence and a boost. I love what I make and as a maker I work alone most of the time and don't often hear feedback,. I am so grateful for the opportunity to present my work to Liberty.
Check out their promotional video for the day! There is a glimpse of my products at the end of the video. You will spot one of my flower pots pictured below. over 600 designer makers pitched their products on that day..the atmosphere was incredible, such a buzz! it goes to show that craft and design is thriving in Britain.
http://www.liberty.co.uk/best-of-british/article/fcp-content
After arriving back in Wales I had a meeting with Merched y Wawr, Mynytho. I gave them a presentation on my journey so far from studying at MMU in Manchester to where I am now with my business and the stories and experiences I have encountered along the way which has impacted on the development of my craft work. I would like to thank them all for their warm welcome, and for a really enjoyable evening ( and for feeding me really nice biscuits and tea ) thank you so much for your kind words about my work.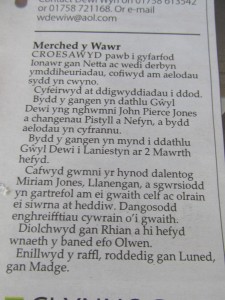 I have also been working on a Commission for Ty Newydd, Llanystumdwy. I was chosen to make a unique coffee table that responded to Gillian Clarke and Guto Dafydd Poems. More details on this commission to follow later with images of the process of making.