I have to say I thoroughly enjoy Made by Hand in City Hall, Cardiff this year. It was nice to see familiar faces and making new contacts and friends in the process.
I had a helper with me for the weekend- my Mother and Sister. My Sister Iona helped me with the Set up and take down, which was very handy as I would have struggled on my own, while my Mother helped with the packing of sold items of the stand.
My mother had thoroughly enjoyed the event too. She watched every single pottery throw down, went round the whole show saying hello to various makers and bought herself a little treat in the process. I think I'll have to bring her again as she was a hit with the other makers!
I went straight back to work as a Technician at Coleg Meirion Dwyfor on the Tuesday, and helped design set for their upcoming Musical.
Then last night I was welcomed by Merched y Wawr Pwllheli, where many had seen me on S4C Heno on Monday. It was a very nice evening and the welcome I received was overwhelming, and they seemed very interested in my story about my Work. DIOLCH yn fawr iawn i chi am y croeso cynnes!
Many bowls have left the workshop recently, which is lovely to see people falling in love with the work. Below are a few examples of what has sold.
My next big event will be Portmeirion Food and Craft Fair, 2,3,4 of December. If your in the area it's well worth a visit to this special venue. It will make you feel all Christmassy with all the mulled wine, carol singing and lovely food on offer, and of course give you some ideas for Christmas gifts ;).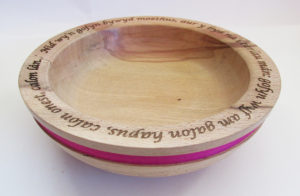 '
'Calon Lân' Bowl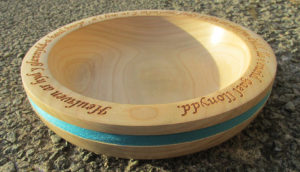 'Heulwen ar hyd y glennydd' bowl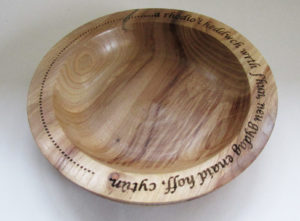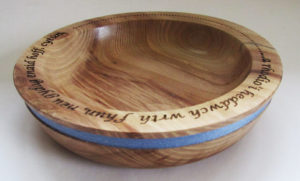 'a rhodio i heddwch wrth f'hun neu gyda enaid hoff cytun' bowl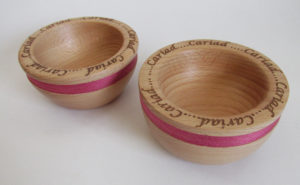 'Cariad' nut bowl