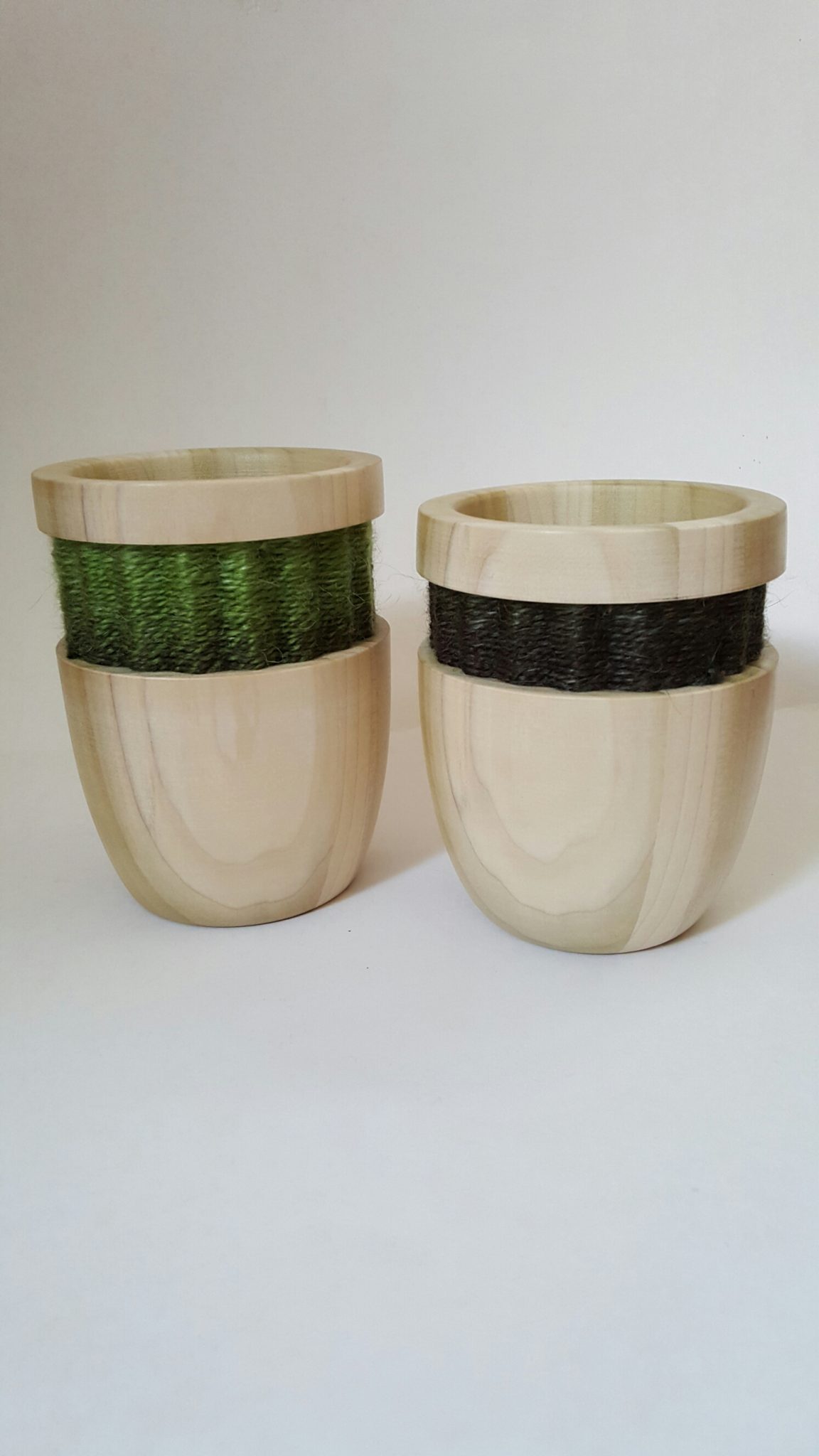 hynod o gyffroes i gael bod yn rhan o'r arddangosfa yma! Dyma cwpwl o ddarnau a fydd yn rhan o'r arddangosfa gynai. Gwaith newydd spon wedi ei greu o bren 'tulip' gyda gwlan lliw wedi ei wehyddu fel addurn o amgylch y potiau.
credaf fod y potiau yn edrych reit ddiddorol cyn iddynt gael eu gwehyddu hefyd. Daw'r ysbrydoliaeth drwy edrych ar peniau metal crwn dal seilej defaid a gwartheg. Cefais syniad o feddwl tybed fuasai rhoi 'dowels' pren o amgylch powlen fuasai modd gwehyddu gwlan i greu addurn. Mae'r canlyniadau yn well nag oni ddisgwl ag hefyd yn talu gwrogaeth i waith fy ngyn athrawes gelf Elin Huws, lle mai hi yn creu gwaith celf wedi ei wehyddu yn fanwl.
Very excited to be part of this exhibition. here are a couple of pieces that I will be showcasing. Brand new work! made from 'tulip wood and weaved with coloured wool. I also think they look very interesting before being weaved too.They are inspired by cattle and sheep round metal feeding pens. I looked out one day on our field and looked at the form of it and it gave me an idea of a new method -to weave wool inbetween dowels.I'm extremely pleased with the results and it also pays homage to my former art teacher Elin Huws work, who focuses her art work on tapestry and weaving.