I really enjoy doing commissions for special occasions.  I have had very interesting jobs this year varying from trophies, to Welsh wedding gifts to retirement gifts.
Weddings- I get many interesting wedding commissions where I discuss with the customer what they would like written on the bowls. Some like to have the name of the bride and groom and date on the bowls, others like to have part of a poem and then the bride and groom's names and date, and others like to have just a poem on the bowls with the name of bride and groom and date underneath the bowl.
I then will create a mock up of their requests similar to this image below.
I will also send images of bowls I have in stock in the customer's price range, and type or wood colour.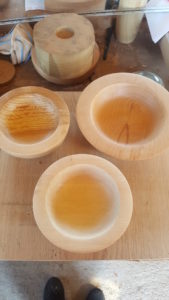 These are only some of the bowls I have created this year…with thread colours chosen to go with the wedding's colours, bridal colours, or their homes etc.
These are some lovely bowls I have made as retirement gifts for teachers in Secondary School in my local area, with the schools poem etched on the rim of the bowl.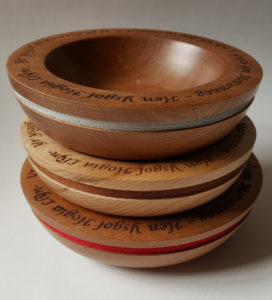 These are examples of the trophies I have made this year. Sheepdog trials and A level college trophies to reward excellence.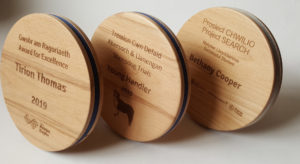 If you have any special occasions coming up or weddings or events do not hesitate to contact me to discuss your requirements.  miriam.jones66@yahoo.co.uk