Edrych yn ol dros y cyfnod yma, mai wedi bod yn un heriol a rhyfedd. Ar ddechra mis Mawrth roeddwn i yn brysur efo archebion tlysau gwahanol ag yn creu ambell gomisiwn.  Cefais fy newis ar gyfer sioe 'Top Drawer' yn LLundain  am y tro cyntaf ag yn edrych mlaen yn arw iddo. Roeddwn newydd gychwyn ar gwrs turnio efo The Worshipful Company of Woodturners a AWGB yn Mriste, ag wedyn aeth y wlad i gyd i 'lockdown'. Am gyfnod roeddwn ar goll, ag yn drist iawn fod cyn gymaint o bethau wedi ei ganslo- (fy mhenblwydd yn 30 yn un!) – doedd genai fawr o fynadd turnio ag yn gweld hi yn anodd addasu i'r newid. Wnesi ddechrau cerdded, garddio a ymarfer sgiliau turnio yn slo bach yn y gweithdy.
Looking back over these past few months, it's been a strange and challenging time. At the beginning of March, I was busy with trophy orders and few commissions, and had been selected to exhibit at my first ever trade show 'Top Drawer' in London. I had just done my first weekend in Portishead on the 'Certificate in Woodturning' Course with The Worshipful Company of Woodturners and AWGB  then the whole country went into lockdown. For a while I felt lost, and gutted so many things got cancelled. My 30th birthday for one! I had no motivation and was trying to adapt to this change. I started walking more, doing some gardening, and practice some turning skills in the workshop for a while. 
Penderfynnais i ddefnyddio yr amser yma i arborfi gyda syniadau newydd yn y gweithdy. Roeddwn eisiau datblygu y casgliad gwehyddu, ag wedi bod yn arbofi yn gyson gyda gwahanol syniadau yn ddiweddar.
I decided to use this time to experiment with new ideas and play in the Workshop. I wanted to explore new ideas and shape for the weaving collection, and have been making progress on this over the last few weeks. 
Yn ystod Ebrill, fe wnesi greu daliwr golau bach lliwiau'r enfys, ag mi oedd yn lwyddiant mawr, gan gasglu llawer o arian i elusennau.  Ar y dechrau mi wnesi greu un i oleuo ag i gofio y rhai oedd yn dioddef. Erbyn hyn, mae'r daliwr golau wedi datblygu i fod yn symbol o obaith, ag wedi cael ei brynu fel anrheg i eraill i ddangos cariad a gobaith i'w gilydd.  Roedd creu y canwyllau bach hyn wedi rhoi blas imi ar sut fuasai bywyd yn gwneud fy musnes bach llawn amser rhywddydd. Mi wnaeth o fy helpu i drwy gyfnod y 'lockdown' ag yn rhywbeth positif iawn i ddod allan o sefyllfa mor bryderus a rhyfedd.  Cefais hyd i'r tân yn fy mol ar angerdd tuag at fy ngwaith, ag rhoi hwb imi goelio yn fy hun. Rwyn berson sydd yn pryderu llawer , ag yn ofn mentro weithau,  ond mi ddangoswyd y cyfnod prysur yna o greu y canwyllau fy mod yn fwy na tebol o allu gwneud hyn.
Mae'r cyfnod yma wedi gwneud imi sylweddoli beth sydd yn bwysig mewn bywyd, ag pa mor bwysig ydyw i wneud y pethau rydych yn fwynhau fwyaf.  Gobeithio medru rhannu efo chi luniau o waith newydd yn fuan.
Gwelir rhywfaint o'r comisiynau a gwaith sydd wedi cael ei greu yn ystod cyfnod lockdown.
During April, I created a rainbow tealight holder, which became a huge success and raised a lot of money for charity. At the start I made one to light up and remember those lost and suffering, and by now the rainbow tealight holder has evolved to symbolise hope and has been bought by many as gifts- to show love and affection to one another. Making these tealights really gave me an insight into what life could be like doing my own work full time one day. It really got me through the lockdown and was a huge positive out of strange and worrying time.  It helped me to find the fire and passion again for my work, and to really believe in myself. Iv'e always been scared that i'll get to overwhelmed, and i get many anxieties, but that busy period making my tealights has shown me that i can do this, and I'm capable of doing this little business. 
This period has made me realise what's important in life, and how important it is to do things you enjoy. Hoping to be able to share new work with you all very soon. check out my instagram and facebook for regular updates insta- @miriam_jones2
Here are some images of work made during lockdown.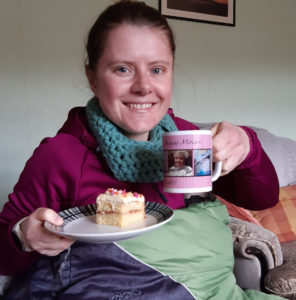 penblwydd lockdown yn Mis Mawrth/ Lockdown Birthday in March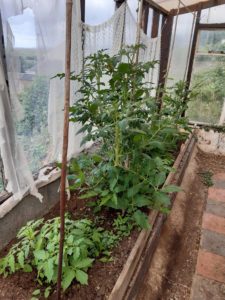 Tyfu Tomatos/ Growing Tomatoes (never grown anything before! they are huge by now!)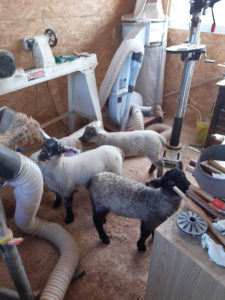 ymwelwyr annisgwyl yn y gweithdy / my unexpected (and uninvited) visitors to the workshop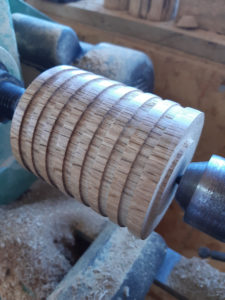 creu daliwr golau / creating tealight holder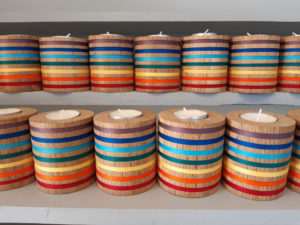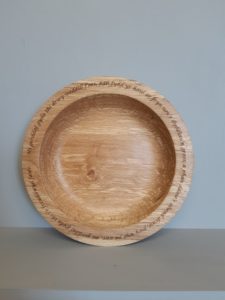 powlenni lockdown/ lockdown bowls.